News from Lui Diocese and the upcoming mission trip, prayers requested
With preparation for the next mission trip to Lui which departs in a week, there is sad news about Bishop Bullen Dolli. This weekend Bishop Bullen was not feeling well and was unable to speak, although he was trying to communicate in other ways. There was no medical officer on duty at Lui Hospital. The diocesan staff took him to Juba for medical help. Bishop Bullen is currently resting at a relative's house in Munuki. Diocesan Secretary the Rev. Stephen Dokolo and the Rt. Rev. Bismark Monday, bishop of neighboring Mundri diocese ask us to join them with prayers for the bishop, his family, and the people of Lui diocese.
On Monday, November 1, the Missouri missioners will leave for Lui. Traveling are Rick Kuhn, Emily Bloemker, and Debbie Smith. This trip is about our partnerships and partners. Meeting for one day of preparation in Kampala and 9 days in Lui, teams from Blackmore Vale Deanery of Salisbury Diocese in the Church of England (Anne, Shirley, and Jeannie) and Lund Diocese in the Church of Sweden (Marie and Göran) will join the Missourians.
We're going to track all missioner posts and news through one site at luinetwork.ning.com during this trip. One-stop shopping! So if you haven't yet visited, travel over. The site is set up that anyone in the public can read posts, but you have to register to add your own posts or comments.
Debbie Smith has outlined the rough itinerary and goals for this trip on her blog LuLuLui. Do you have questions for mission team members? Come join the community at LuiNetwork.
This Sunday is a celebration in the life of Emmanuel Church. It's Bishop Wayne's annual visitation, so there will be confirmations, receptions, and reaffirmations at the 10:00 AM service. Also during the service two of our three missioners on the next trip to Lui, Rick Kuhn and Debbie Smith, will be commissioned. After the service there will be a procession to the new entrance and dedication of the new 7000 square foot annex. It's also Emmanuel's pledge ingathering Sunday.
If you were to diagram the events of this Sunday, they really do illustrate the circle of stewardship: pledges which make possible->a new building where ->the newly confirmed join the parish membership in worship and ->go back out to find God's mission in the world, be it in Sudan, or just around the corner.
In the dappled morning sun, you'd be hard pressed to differentiate the old from the new. The stone work matches precisely. The building is placed among existing trees and set back from the main profile of the sanctuary, allowing that main entrance to remain a sun drenched focal point.
The new extension opened for use for the first day of classes. There is now a handy turn-around and canopied walkway leading to an elevator which makes Emmanuel accessible to all. New classroom space, nursery, and handicap accessible bathrooms were a part of the new construction; updates include kitchen and offices, common space, and exteriors.
Read more about the new building and the Behold campaign that made this possible at Emmanuel's website.
In the span of 24 hours, two major fires destroyed buildings but not the spirit of the Diocese of Northern California and Immanuel Chapel at Virginia Theological Seminary. Fortunately there was no loss of life or serious injury in either fire.
The building known as the Annex to the people of Northern California's diocese sustained significant damage in a four alarm fire the morning of October 21. The Annex houses diocesan offices including Communications, Youth Ministry, and the Episcopal Foundation of Northern California. Prayers for the people of Northern California as they move forward to their centennial diocesan convention in three weeks. More at the diocesan webpage...
The next day messages began flying mid-afternoon that the chapel of Virginia Theological Seminary was in flames. The post fire images which juxtapose roofless charred eaves and the remaining stained glass and pews with prayerbook fragments are particularly poignant.
This is a photo of the stained glass above the altar before the fire. This window was lost.
For more photos, video, and reflections from VTS staff, board, and students, visit the VTS webpage.
"A Whole Heart" is the theme for the next art request for publication in the December/January edition of Seek. This feature is becoming one of the most eagerly anticipated of newsmagazine recipients.
Remember that there is no age requirement, and all genres will be considered. We've had a wonderful assortment of oil, watercolor, and photography to date.
Please consider entering a piece of yours that you feel speaks to "a whole heart." We'd appreciate your entry by Thursday, November 11th. If you have any questions, please feel free to call or email Beth at 314-255-1387.
From the Oct. 13th Trinity Church News,
from Interim Vicar the Rev. Peter Van Horne.
Reformation Sunday is the day our Lutheran sisters and brothers commemorate Martin Luther posting his 95 Theses on the door of Wittenberg Cathedral in 1517, an act that sparked the beginning of the Reformation on the European Continent, which inspired the English Reformation during the reign of the often-married King Henry VIII. We Anglicans are the spiritual benefactors of both Reformations.
In order to help us remember our roots, our 10:00 a.m. service on Sunday, October 31 will use the 1662 Book of Common Prayer from the Church of England. It was compiled 100 years after the First and Second Prayer Books of Edward VI (the 'boy king' who followed his father, Henry VIII) and is a wonderful example of a Reformed liturgy that incorporates the best of the "Elizabethan Settlement" when Anglicanism became more tolerant of religious diversity in Great Britain and took on the character of the "Anglican Ethos."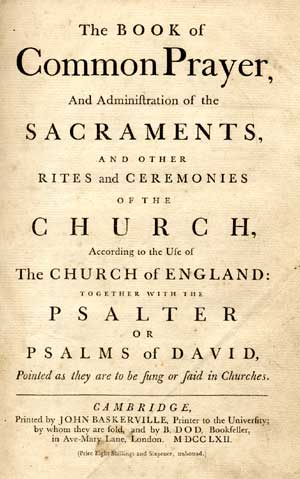 The 1662 liturgy decidedly is a traditional language service, yet with a structure and sequence of things that will be a surprise to those of us who knew the 1928 American Prayer Book, and who now use the 1979 Prayer Book. As an historical note, this is the Prayer Book that would have been used by the Church of England in the Thirteen Colonies until the formation of the Episcopal Church in 1789. The Communion service in first American Prayer Book of 1789 is a combination of the 1662 British Prayer Book and the Prayer Book of the Episcopal Church of Scotland, and the latter was influenced by the structure of the liturgy of the Greek Orthodox Church. This is a period when the use of colored stoles and vestments was banned in the Church of England so, on October 31, I will wear what we Anglicans call "choir dress," which means the black cassock, over which is the white surplice, then an academic hood, and over that a tippet or "preaching scarf." This is called "choir dress" because clergy would have worn this when sitting in the choir area at the front of the church for daily services.
By the way, the 1662 Prayer Book is STILL the official Prayer Book of the Church of England. The British Parliament has been asked several times in the modern ear to approve a new Prayer Book for the state-supported church, yet has refused to do so. So, on October 31, be prepared to go back in time several centuries, and become accustomed once again to such words as thee, thou, thine, beseech, etc. If you want to preview the liturgy, I invite you to visit anglican.org where you may view and/or download the Adobe (pdf) version of the 1662 Prayer Book.
The Executive Council of the Episcopal Church met this past week in Utah. One of their tasks was to address the upcoming year's budget in light of reduced income. ENS story on the budget, and a letter from the Council to the church.
The application process for the 2011 United Thank Offering grants is now open. All grant applications are reviewed in the Missouri diocese by the UTO Grant Committee of the ECW (Episcopal Church Women). For 2011 grants, the application needs to be complete and in the Offices of the Bishop, Diocese of MIssouri, by November 29. 2010. Grant application, as well as information on criteria, church wide past projects and other helpful information is online at the UTO website. More information about UTO is available on the diocesan website.

St. Louis native the Rev. Margaret (Peggy) Lee became the first woman ordained in the 133 year history of the Episcopal Diocese of Quincy this Oct. 16. On the 17th, she celebrated her first Eucharist as a priest at All Saints' Episcopal Church in Moline, Illinois.
Who are the people in your neighborhood? There is a new tool of interest on the national church website. Added to information from parochial reports on membership and plate and pledge, there is a new rich report on demographic information in a one mile radius of the parish. Each parish has access to a 15-20 page report which include specific data points, and how these relate to state-wide information. Includes: Population, Household Trends; Racial/Ethnic Trends; Age Trends; School Aged Children Trends; Household Income Trends; Households and Children Trends; Marital Status Trends; Adult Educational Attainment; Employment and Occupations; Mosaic Household Types; Charitable Giving Practices; and Religious Practices. In the Studying your Congregation and Community section of the Episcopal Church's website.
Episcopal Relief and Development is again offering Bishop's Blend coffees and teas. Help support ongoing worldwide need and sustainable agriculture with your purchases.
Congratulations to Grace Church-Kirkwood for completing the 10% challenge from Interfaith Power and Light. The goal was to reduce the the church's carbon footprint by 10%. Grace was one of over 250 congregations of all faiths that participated. Although the challenge has ended, you can still use IP&L's online tools to learn about large and small steps to take in reducing your carbon footprint.
BISHOP'S VISITATIONS &
SCHEDULE
Sun, Oct 31, Emmanuel Episcopal Church, Webster Groves. Dedication of the new annex, Commissioning Lui missioners
Sun, Nov 7, All Saints' Episcopal Church, Farmington
Sun, Nov 14, Trinity Episcopal Church, Central West End (St. Louis)
Nov 19-20, Diocesan Convention
Sun, Dec 5, Trinity Episcopal Church, Kirksville
Sun, Dec 12, St Martin's Episcopal Church, Ellisville
Sun, Dec 19, Episcopal Church of the Advent, Crestwood
Sun, Dec 24, Christmas Eve, Christ Church Cathedral
Life of the Diocese

Thu, Oct 28, 5:30 PM
A book signing with The Rev. Ralph McMichael. Eucharist: A Guide for the Perplexed. Emmanuel Episcopal Church 9 South Bompart Ave. Webster Groves, EucharistCenter@gmail.com


Thurs, Oct 28, 7 PM Where Science and Theology Meet: Mind, Matter and Time.
Church of the Advent, 9373 Garber Rd. in Crestwood. Note: last week there was conflicting information about which Thursday this event takes place. Confirmation: the last Thursday evening in October. More info...


Oct 29-30 Episcopal School for Ministry weekend


Sat, Nov 6 Metro IV Convocation meeting, St. Luke's Church, Manchester


Sun, Nov 7, 5:00 PM
Evensong in the style of Taize - Grace Episcopal Church - Kirkwood. 'A Place to Meet God' Through a blend of ritual, reverence, and simplicity... In the midst of community... In prayer for healing and wholeness for oneself, for others and the Church... And to be renewed.


Sun, Nov 7, 5:00 PM
Evensong for All Saints- Music of Herbert Howells and Ernest Bullock St. Peter's Church, Warson and Ladue Roads


Sun, Nov 07, 5:00 PM
All Saints' Evensong at the Church of St. Michael and St. George, Clayton. Music of
Lehman, Phillips, Wood, Stanford, Hogan, Bainton, Tavener


Tue, Nov 9, 7:00 PM Faith and Practice begins. We will explore some of the many aspects of Christian faith through scripture, conversation and dialogue, meditation, and prayer. Each week will begin with a scripture pointing to a theme such as story, authenticity, ministry, spiritual journey, church, mission, suffering, and prayer. No preparation is needed and there is no homework. The only requirement is the willingness to explore the spiritual dimension with companions. If you have questions, please be in contact with the rector Anne Kelsey. Trinity is at 600 N. Euclid Ave., St. Louis, 63108; (314) 361-4655
Thu, Nov 11 Art submissions on the theme "Whole Heart" and article submission deadline for Dec-Jan Seek. Submissions to Beth Felice, Director of Communications, 314-255-1387
Thu, Nov 11, 6:00-9:00 PM Diabetes Awareness 2010
St. Luke's Institute for Health Education. Join us starting at 6 p.m. for exhibits displaying glucose meters, insulin pumps and other products for individuals with diabetes. Beginning at approximately 7:15 p.m., two St. Luke's Hospital physician speakers on diabetes. For more information, call 314-205-6446.
Wed, Nov 17, 6:30-8:30 PM Basic Bible. Part of the Cathedral's "Back to Basics" Christian formation series, Basic Bible is an orientation to scripture, a map of the broad themes of the Bible and timeline of events. We'll talk about how to read the Old and New Testaments, give a review of different ways to do Bible study, and look at how do you read scripture different than a newspaper or Harry Potter? $50 for all five weeks includes a light supper at 6:30 before the 7 pm class and you must commit to the entire 5 weeks. Runs on Wednesday evenings from Nov. 17 through Dec. 22 (excluding Nov. 24). Contact: Mike Kinman, 314-231-3454, mkinman@gmail.com


Nov 19-20, 171st Diocesan Convention in St. Charles Missouri. More details...
Sun, Nov 21, Compline-Trinity Church Central West End
Monthly Compline service on the third Sunday beginning at 7:00 p.m. Compline is a brief but beautiful service with ancient roots. Enjoy 20 to 30 minutes of music, scripture, poetry, prayers and silence. Afterward we adjourn to a nearby restaurant for dinner and conversation. 600 N. Euclid, St. Louis
Sun, Nov 28, 4:00 PM Advent Lessons and Carols 14th Annual Candlelight Service at Grace Episcopal Church, Kirkwood


Sun, Nov 28, 5:00 PM Evensong at the Cathedral
Christ Church Cathedral, 1210 Locust, St. Louis. Music for the season of Advent


Mon, Nov 29, 7:30 PM.
ESM Book Club Online
For an invitation by email contact Fr. Rod Wiltse, wiltse@charter.net November - The Great Emergence by Phyllis Tickle A discussion area will be open throughout the final week of each month for on-going conversation and discussion.
Thu, Dec 2 Clergy Day
More info...


Dec 3-4, Episcopal School for Ministry Weekend
Tue, Dec 21, 6:00 PM Ordination of Robert Ard, Jr. to priesthood
Christ Church Cathedral
Thu, Dec 23, 6:00 PM Ordination of Marc Smith to Transitional Diaconate
Christ Church Cathedral
Trivia NIghts

Nothing's Too Trivial. 7th Annual Trivia Night at St. Mark's-St. Louis. Sat. Oct. 30. Doors open at 6:00 Questions start at 7:00 For reservations call Rod at 314-832-2226. 4714 Clifton Ave, St. Louis 63109, www.saintmarks-stl.org

Countdown to Convention

The 171st meeting of the Annual Convention of the Diocese of Missouri
Nov. 19-20, 2010
St. Charles, Missouri
Upcoming Deadlines:
Hotel reservations ongoing, special rate until Oct. 20 (now extended to) Nov. 5
Vendor registration Nov 5
Convention registration Nov 5

Prayer Resources
Daily Office/ Lectionary

Daily Office(incorporating prayers from Holy Women, Holy Men and images)
Mission St. Clare

Revised Common Lectionary (RCL) using the New Revised Standard Version of the Bible (NRSV): io.com; satucket.com

The Book of Common Prayer includes downloadable and smart phone versions.

Oremus Bible Resource includes comparisons of versions including the NRSV.

Holy Women, Holy Men with collects from the newly published resource and images in a daily format. (You can subscribe to this resource from the Standing Commission on Liturgy and Music.)
DIOCESAN PUBLICATIONS
Publisher
The Rt. Rev. Wayne Smith
Bishop of Missouri
Editor
Beth Felice
Director of Communications
Episcopal Diocese of Missouri
bfelice@diocesemo.org
314-255-1387; 314-398-2209 (cell)
Archives
iSeek, weekly news;
Seek and Sunday Seek;
DIOCESE ONLINE
Diocesan News

Diocesan Calendar

Subscribe to email lists

Lui Network

Bishop Smith-occasional blog

Facebook

LinkedIn

Twitter-prayers

Twitter-news

Twubs-twitter in a browser

Flickr-photos

Vimeo-videos
issuu.com-publications

Scribd-publications